OEM (Contracted Manufacturing)
OEM(受託製造)
Quasi-drug Manufacturing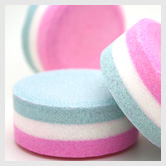 We manufacture quasi-drugs, mainly bath additives and others.
We accept consultations regarding pharmaceutical affairs,
including contract manufacturing of pharmaceuticals and applications for approval of new materials.
Chinese herbal bath additives

We can manufacture bath additives to desired specifications using herbal medicine and Chinese herbs.
Solid bath additives

Powdered bath additives can be shaped into round or irregular shapes. Secondary and tertiary layer manufacturing also possible. Size up to 55mm in diameter possible.